Phillips Square Drive: Actually Better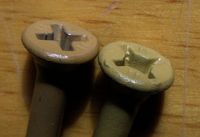 The screw head shown on the left is a standard Phillips head. The screw head shown on the right is a "Phillips Square Drive", a combination Phillips/Robertson head, commonly sold under the "Deck Mate" brand, among others.

Since Home Depot was the major retailer flogging this product, I initially assumed it was created by the marketing department in order to allow the retailer to artificially distinguish themselves from the competition without prodiving real value. However, having now driven about 300 of them, and used some standard Phillips screws on the same project, I am surprised and pleased to comment that the combination Phillips/Robertson drive really does go in with less force and strip less often. It also stays put on the driver for one-handed installation - of course this also means it tries to pull the bit out of the driver when you're done, and with a magnetically held bit instead of one directly in a chuck, it usually succeeds.

---
---